Chartered surveyors are asked to intervene in a wide variety of issues. However, we find that many of our cases concern basic problems with properties that, while easily dealt with, can cause considerable distress to the householders.
The problem that Brian and Jessica Halstead* were experiencing with rising damp caused them to contact Survey Spain and ask for our help.
Their initial request set out the problem quite clearly:
"We would like you to ascertain the cause of the rising damp in our lounge and to recommend remedial action to prevent re-occurrence of the problem. Also hopefully to advise on a reputable local builder to undertake the work."
Survey Spain issued an immediate reply:
"Thank you for your enquiry and we shall be very pleased to assist. The best date for me to visit is any time on Wednesday 12th May, but as long as we avoid Tuesday and Thursday afternoon, so far the other days are possible too. With regard to the fee, as you will see from below, we work on the basis of 120€ per hour plus IVA. I assume that I can inspect the problem areas for 30 minutes and then prepare a brief report during the remaining time. There will be no travel costs as Los Arqueros is not far from our offices. IVA at 16% will be charged in addition to the 200€ euros."
When we visited Brian and Jessica's property we were able to view the problem at first hand and started the process of obtaining a satisfactory resolution for them.
Work: Multiple problems of dampness that had continued uncorrected by the developer, despite or perhaps because they were also occurring in most of the other apartments in the development. We identified the main problem. As there was little hope of action from the developer and the comparative cost and uncertainty of legally forcing appropriate repairs, we organised the carrying out of the necessary works.
We sent our Fee Quotation and Terms of Business, calculating the time we estimated would be required for the visit and to produce the written report, which they could pass to the developer.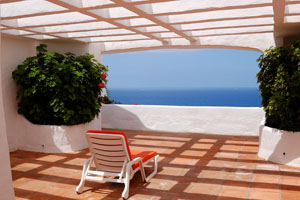 Upon delivery of our written report we effectively had finished our work with them and in this case had earned just a small fee. However, their problem was not resolved as they required a builder to effect the works that were recommended in our report. Mr. and Mrs. Halstead, who did not speak Spanish, were very nervous about the way things worked in Spain and had heard many 'horror stories' about builders taking deposits and work not being completed. We felt confident to recommend a known builder who we took to the client's property and acted as a translator. We asked for no payment from either party, just feeling an obligation to see the matter satisfactorily concluded.
The builder's quote was in Spanish, which we emailed to the client and provided a brief translation. Again, we made no additional charge for this, as it would have seemed pointless to send a quote that would not be understood. We informed the client that some deposit was required and reassured the builder that he would be paid for his work, also arranging for a translator to be present as work commenced.
The clients wrote complimenting the builder on the work done. Also, when the tiles were lifted the builder discovered that there was no waterproofing membrane underneath, which we had indicated could be the source of the problem in our original report. We confirmed this finding in writing as the developer had previously insisted that there was a damp proof membrane. Our client has been able to join with other owners experiencing the same problem to obtain effective action from the developer.
As a result of their satisfaction with our service, Mr. and Mrs. Halstead have recommended us to other owners in their development and the community president has asked us as independent experts to oversee a project, ensuring specifications, quotations, repairs process, quality and schedule etc.
Clients' testimonial: "We contacted Survey Spain in June of last year after re-occurring rising damp in our lounge. We received a quick response and a survey was undertaken to establish the likely cause. Survey Spain were also able to recommend a local builder to undertake the remedial work and as our Spanish is limited, were able to provide an interpreter initially when the work commenced to alleviate any translation problems. We have as a result given Survey Spain's name to other owners should they have similar problems."
Many people assume that the only time they would need the services of a Chartered Surveyor is for valuation purposes or when purchasing a property, however, the above case study demonstrates another scenario where an expert report from a registered professional is essential in getting an infrastructural problem addressed – whether dealing with an insurance company or developer.
The RICS-accredited Chartered Surveyors at Survey Spain can assist with all kinds of property matters: valuations, building surveys, structural surveys, building inspections, investment and development appraisals and cover the Costa del Sol, Costa Blanca and all of mainland Spain and its islands.
* For reasons of confidentiality the names of the clients have been changed